Happy Friday!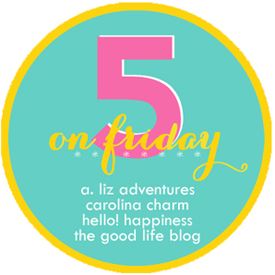 Bringing you five things I'm lovin' this week!
[One / Empire]
I'm seriously lovin' on this show right now. I have binge watched through Season 1 and part way through season 2 the last few weeks without hesitation, constantly craving more.  After this last episode we're caught up and have to wait until March 30th  for new episodes.  I probably won't make it. *sigh*
[Two / EOS]
For a while my Sister In Law has been telling me about EOS lip balm, and I didn't buy it. There's no way it could be that awesome. I can buy lip balm for a dollar, why would I pay more? Then I got some for Christmas & I still wasn't completely convinced, but I threw one in my pocket. Now, I'm constantly reaching for it and I get it. They're amazing. I probably won't turn back.
[Three / White Chocolate Kit Kat]Have you tried these?
You need to try these.
These are my kryptonite lately. 
[Four / Colouring]
I know, this adult colouring thing is totally trendy and hipster,
but it's so incredibly therapeutic.
[Five / Crochet]


I made this ridiculously large bow.
To be fair, I was just practicing and had no idea what it was going to become when I started. Then it turned itself into a bow. Lady girl insisted I needed to put it on a band and then put it on Little Miss.. so I did.